The second edition of the Spanish Activa't Fair will take place in June in Alboraya, Valencia. It is the occasion for both individuals and professionals to meet and to know the latest products or services created in order to improve mobility and autonomy.
Get moving!
Activa't 2015 takes place outside, close to the Mediterranean Sea, in a friendly environment.
The main objective of this fair is to raise awareness for all people with physical disabilities. They have a concrete need of adapting their daily life and environment, in order to remain autonomous. It is up to professionals to respond to their needs and insure technical assistance and suitable products for an active life.
Activa't promotes autonomy, mobility and safety for a healthy and active well-being. All attendees are welcomed to participate to the workshops available, to increase personal autonomy or to access further information regarding associations or sport clubs.
SCHEDULE: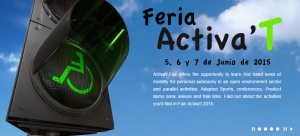 Where: Plaza General Basset, s/n, Boardwalk Patacona – ALBORAYA (Valencia)
When:
Friday, June, 5th – 10:00 AM – 8:30 PM
Saturday, June, 6th – 10:00 AM – 8:30 PM
Sunday, June, 7th – 10:00 AM – 3:00PM
Exposure area – 3000 square meters
Meeting Space for workshops and conferences – 500 square meters
Demos and activities area – 3500 square meters
For further information please visit the Fair's website.
Vide