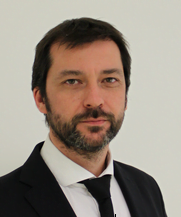 Founder of silvereco.org/en (formerly gérontechnologie.net), Jérôme PIGNIEZ animates this site as responsible for the publication: he and his team make a permanent watch on the Silver Economy, write articles, coordinate and submit proposals for articles to various editors.
Expert in the field of technologies for autonomy and the Silver Economy, Jerome PIGNIEZ is regularly invited to speak at conferences, for writing books or in the context of working groups on the topic of aging.
Furthermore, through its ON-MEDIO society it supports and advises companies in this sector.
En 2009, he launched and co-produced "la Nuit du Grand Âge et du Bien Vieillir", an event which aims to discover and reward structures involved in supporting the elderly.
He actively participates in all initiatives to structure this sector: Asipag, Silver Valley, SilverEconomie Ministry Working Groups…
To Contact Jérôme PIGNIEZ
ON MEDIO
3, rue Charlotte et Roger Bouchard – 94370 SUCY-EN-BRIE

web : www.silvereco.org/en
mail : jpigniez@on-medio.com
phone. : +33 (0)1 84 23 03 56
Social Media : Google+ – LinkedIn